Ok, there are 3 huge reasons why I'm really excited about this blog post:
1) I've had too much coffee.
2) These cookies are amazing. Think chewy Thin Mints with gooey dark chocolate bits, covered in a light glaze of powder sugar. Think my brother's worst nightmare (he hates mint and chocolate; we're most likely not actually related).
3) I got an early holiday gift. And allow me to introduce you to my new favorite thing in the whole world: my new camera. After I started this blog, I quickly realized the zoom on my point and shoot just wasn't meant for macro pictures. Or something like that. It's a great camera that I'm definitely going to keep and bring wherever I can't bring this new camera, but it just wasn't meant for what I was using it for. Jeremy was gracious enough to lend me his camera, which did a much better job of capturing the detail and coloring that really makes pictures of food look yummers. It helped me go from this to this. So thanks, you rule! But enough outta me, let me show you what I'm talking about:
Do you see those bits of powdered sugar?
And, watch this: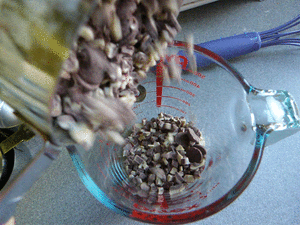 Did you think that was a movie? No, that was a gif file. THAT'S how quickly this thing takes pictures. AGH. I'm so in love.
One note before we get started: This recipe is adapted from one I wrote down a long time ago. I can't for the life of me figure out where it came from; I just know it was a recipe for double chocolate cookies. If this looks familiar to anyone, PLEASE let me know so that I can link to the original website and give credit to the original recipe. Thank you!
Soundtrack: Did I post this already? Maybe, but listen to it again. Because I said so.
Holy Ghost! by DFA Records
Mint Chocolate Chip Cookies
Yield: 2 dozen cookies
1 1/2 c ap flour
1 1/2 tsp baking powder
1/4 tsp salt
1 c. Andes baking chips (I've seen them at Target, AC Moore, and definitely available online)
6 tbsp butter, softened
1 c sugar
1/2 tsp vanilla
2 eggs
1 c dark chocolate chips (I use these)
1/2 c powdered sugar
In a small bowl, whisk together flour, baking powder and salt. Set aside.
In a microwave safe container, melt the Andes chips, heating in 30 second intervals and stirring in between. Set aside.
In a large bowl, cream butter and sugar together until light and fluffy, about 2-3 minutes. (It won't stick completely together as the sugar ratio is higher here.) Add melted Andes chips and vanilla, beat until combined, using a spatula to s
crape down the sides when necessary.
Add eggs and continue beating mixture until eggs are fully incorporated.
Slowly add the dry mixture to the butter mixture, scraping down the sides when needed. Stir in dark chocolate chips. Gather dough to the center of the bowl, cover and freeze for at least 20 minutes.
At about 10 minutes, preheat oven to 350 degrees.
Remove dough from freezer and shape into 1 inch balls. Roll in powdered sugar and place on a cookie sheet lined with parchment paper. Bake for 10-12 minutes. After baking, allow cookies to cool for 1-2 minutes before moving to a cooling rack to cool completely.
Mini spatula <3